Thomson Power Systems Paralleling Switchgear

Series 2400
Series 2400 Paralleling Switchgear is the most intelligent, advanced Switchgear available today designed specifically for use in the Power Generation Industry.
Configurable Switchgear for Distributed Generation, Automatic Standby or Prime Power Systems.
Integrated Control & Monitoring functions utilizing the PGC 4000v2 Power Gen Controller
Individual Manual Control & Monitoring Stations for each generator as standard
Low & Medium Voltage (480V to 15,000V, 10, 000 Amp)
Metal Enclosed or Metal Clad Construction Compliant to ANSI C37.20.1 & ANSI C37.20.2 standards
High Short Circuit Withstand Ratings up to 100kA and 1000 MVA
SEISMIC Certification – IBC 2006 – Section 13, Occupancy Category IV. ASCE7-05 Region 3 (Minimum SS = 342%)
Integrated Web/Internet-based Remote Monitoring and Control
Certified to UL 891, UL 1558 and CSA STD No. 31.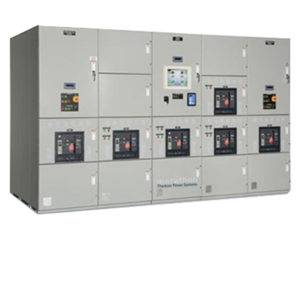 Features
| | |
| --- | --- |
|  Amperage Range : |  Low Voltage: 800A – 10,000A, Medium Voltage: 1200A – 3000A |
|  Voltage Range : |  480V – 15kV |
|  Application : |  Distributed Generation (DG), Auto Standby (AS), Prime Power (PP) |
|  Enclosure Type : |  Nema 1 or Nema 3R |
|  Power Distribution : |  3PH, 3W or 4W |
|  Certification : |  UL, CSA and ANSI switchgear standards |
|  Controller : |  PGC 4000 |
• Freestanding NEMA 1 structure constructed of heavy gauge steel, painted ASA 61 gray with white interior sub-panels
• Tin-plated round edge high conductivity copper bus bars sized for 100% continuous operation braced for short circuit currents up to 100kA per UL/CSA and ANSI standards
• Switchgear structures can accommodate 480V – 15kV applications with suitably rated vacuum or air circuit breakers of drawout or fix mounted designs
• Metalclad construction is available with fully barriered breaker, bus, cable and control compartments
• Standard modular construction offers single or multiple generator applications to fit most applications. Structures available in 30" or 36" widths, and 90" or 95" heights
• Structure design meets or exceeds UL/CSA and ANSI regulatory standards as required for the specific applications
• Standard configurations available for shipment 8 – 10 weeks from date of approval