Packet Power is pleased to now offer a power monitor capable of measuring energy usage on 480V AC circuits. The new product maintains the same compact form factor as our existing three-phase monitor and extends our wireless metering to include 480V 3-wire delta and 277/480V 4-wire wye circuits.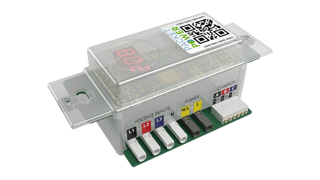 The 480V three-phase power monitor tracks A, V, VA, W, Wh, power factor, frequency, THDv and THDi at ±1.0% accuracy. It is used in new models of our "B", "P", "M" and "R" product lines. The existing 240/415V monitor and its associated products are unchanged and will continue to be sold and fully supported.
The new monitor extends the simplicity of wireless monitoring to 480V circuits. It also makes wireless monitoring a more viable solution for use in facilities outside of data centers. The new unit can be powered independently of the circuit it monitors and utilizes the same wireless technology as our other meters. An optional wire harness with in-line fuses is available to lower installation costs.
The 480V monitor is available immediately in a variety of formats including gang boxes, panel enclosures and smart power cables. Contact sales@packetpower.com if you'd like to learn more about Packet Power's simple, cost-effective solution for monitoring 480V circuits.